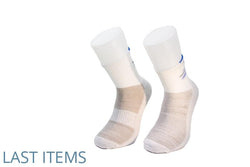 SUPRGOODS
SUPRSOCK SPORT CREW RETRO (2-pair)
SKU: 1510-0020-107
MATERIAL
78% Cotton, 13% Polyamide, 6% Pure Silver, 3% Elastane in cuff.

Designed and packed in Belgium. 

SIZE
Fits true to size.

You can find our size guide here.

Our socks
Wear more and wash less with our Silver Yarns
Recommended wash at 30 to 40

°

C or 86

to 104° F

, see more details
Always air dry when you can, if not tumble dry on low heat
Do not dry clean or bleach
For more details see
here
SUPRGOODS uses an unique Silver yarn for its garments. This metalized technology, where 99.99% pure silver is metalized on to a substrate, which is permanently bonded and will never wash off and is non leaching. It is of course nontoxic.

Thanks to the permanently bonded Silver, these garments are able to stay odorless all day. Our +VE Silver yarns are anti-bacterial, innovative and keep you fresh and healthy. They allow you to wear our SUPRGOODS more and wash them less. All that is better for you and the environment!

Our garments are Anti-odor, Anti-bacterial, Anti-viral, Anti-fungal, Thermal regulating, Moisture-wicking and Anti-static.